The Importance of Asian Representation in Books for Young Children
May 27, 2021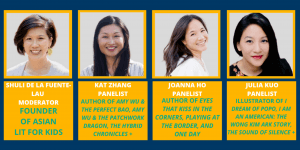 As our country witnessed horrific attacks on the Asian and Asian-American community, exposing deep-seated racism, many parents had been asking a critical question: how can we have conversations with our children about race and diversity, early and often?
As part of ParentChild+'s virtual series Windows, Mirrors, & Doors, we invited Asian children's book authors and illustrators for a compelling, nationally relevant discussion on the representations of Asian characters in children's literature. The discussion shines a light on the impact representation has on the well-being and social-emotional development of Asian children — and all children, the importance for children and families of experiencing books by Asian authors and illustrators, and the ways in which representation and book selection can be a powerful step toward building a stronger, more equitable world.
Click here to watch the live event. For a list of recommended books and resources, please click here.
SHARE