Chronicle of Philanthropy article highlights ParentChild+ Virtual Home Visiting
---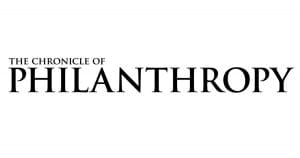 By Jim Rendon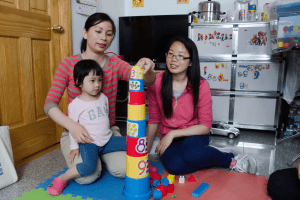 ParentChild+ helps prepare young children for prekindergarten. Before Covid, the visits between early-learning specialists and families, like this one in Sunset Park, Brooklyn, were all in person.
ParentChild+ is not the kind of nonprofit that should have done well during the pandemic. It runs programs with 142 local organizations in 16 states where specialists meet in person with families to help get toddlers prepared for prekindergarten. It provides books, toys, and other material so the children can succeed when they start in a more formal learning environment.
ParentChild+ has always worked in person and thought those visits — 92 per family in the course of the program — were central to its performance. In the past, potential donors suggested the organization use online platforms to save money and boost productivity. But Sarah Walzer, the group's CEO, didn't think its specialists could develop the strong relationships with families that are at the core of its success virtually, so the organization resisted.
But the pandemic changed all that. The group shifted almost entirely to virtual visits in March 2020. It has been largely successful — and, in some cases, spurred more communication with families. The group discovered that clients relied on it for information, services, and even basics like money and food more than it ever realized. As the health crisis eases, the organization continues to monitor families' needs, and it's looking at how it can find the right balance between in-person visits and virtual sessions.
"A critical aspect of our work is the relationship between the specialist and the parents and the parent and the child," Walzer says. "People didn't think that for anybody it would be possible to re-create that relationship virtually. It turns out that, for some people, it is possible."
Lifeline for Families
Last spring, the group scrambled to stay in touch with families. Early-learning specialists used FaceTime, WhatsApp, and sometimes traditional phone calls if families didn't have the right devices or enough bandwidth for a video call. To its surprise, the group found that the vast majority of clients wanted to continue with the program even as they struggled with being stuck at home, losing jobs, managing remote learning for older children, and the fear of a deadly virus.
The group quickly realized that home-learning specialists were a lifeline for many families. They became an important source of information about food banks and housing advocates, even mask wearing. The organization began to work with diaper banks and started delivering diapers, formula, cleaning supplies, and personal protective equipment, along with toys and books and its usual materials. In some areas, the group delivered food to families and even handed out gift cards and money orders. In the past few months, it has helped inform families about vaccines and make decisions about sending children back into the classroom.
The national organization, which brings in about $4.5 million a year, mostly in foundation grants, raised $450,000 from foundation and United Way emergency Covid funds to pay for this. Its local partners, which together raise more than $20 million a year in local and state funding as well as private grants and donations, also brought in additional money.
"We have such individual relationships and connections to the families," says Whitney Evans, the group's director in the San Francisco Bay Area, where programs started just before Covid hit. "They were just primed to be able to have those conversations with the specialists and talk to them about what their needs were."
ParentChild+ raised money to buy devices for families that needed them and make sure they had the bandwidth they needed, something that helped older children who were attending school virtually at home. The organization also had to make sure staff had laptops with working cameras and enough bandwidth to do video calls.
The group's early-learning specialists started to send clients videos before visits to help them prepare for what the online visit would be about. Clients responded with their own videos to show their progress reading to their children, for example.
The flexibility of online visits has been an unexpected benefit. If someone is sick or needs to reschedule, it is much easier since the staff doesn't have to travel anywhere. Fathers have been more involved in the video sessions since visits are now sometimes in the evening when more dads are home.
Study Planned
ParentChild+ is starting to assess what the success of the past year means for its work going forward. Walzer says the organization will stay attuned to the shifting needs of the families it serves. It hopes staff members won't need to continue dropping off essentials and can go back to connecting people with other services in the community. But the dire need for diapers, which are expensive, has stuck with Walzer. She expects the group will develop relationships with diaper banks or try bulk purchases or other ways to help families get the diapers they need.
She says the group expects to step up its efforts to help people with housing concerns when eviction moratoriums are lifted and clients face more uncertainty about where they will live and how to pay for housing.
The group will continue to work with its existing grant makers to help it meet immediate needs and will assess whether local partnerships can fill those needs starting in the fall. Any additional funding will likely be raised at the local level, Walzer says.
"Although our scope of service is the education of that 2- and 3-year-old child, we really play a larger role in the needs and interests of those families," says Angela Drakeford, the group's North Carolina state director. "That's something that will be with us for years to come."
The organization is also grappling with the role of remote visits going forward. Having an online option available will always be helpful. If someone is out of town or has a conflict, staff can do a video visit. Specialists have also been doing some outdoor visits. The idea of doing visits in places other than the home might make sense in the future, too, Drakeford says.
After families shifted to virtual platforms, they were much more comfortable contacting staff members with questions or to ask for help between visits. Walzer is not sure if that will fade as the economy stabilizes and needs are less severe, but she is glad that clients feel comfortable reaching out and initiating contact.
The biggest challenge is to figure out what combination of in-person and virtual visits is right for which families — and whether the format affects educational outcomes. ParentChild+ is planning a study of the various approaches in the Bay Area. Evans, who leads the program there, thinks that some combination of offerings is likely to work best.
So does Malkia Singleton Ofori-Agyekum, the group's Pennsylvania state director, who has been surprised at how well the online programs went this year across her state.
"We're seeing that we can still get the results we're looking for," she says. "We haven't lost the relationship with the families, which is the most important thing."
A version of this article appeared in the July 1, 2021, issue of the Chronicle of Philanthropy.
Jim Rendon – Jim Rendon is a senior writer who covers who covers nonprofit leadership, diversity, and philanthropic outcomes for The Chronicle. Email Jim or follow him on Twitter @RendonJim.
SHARE