Introducing Vidya Ragoo as ParentChild+'s New National Director, Family Child Care Initiative
---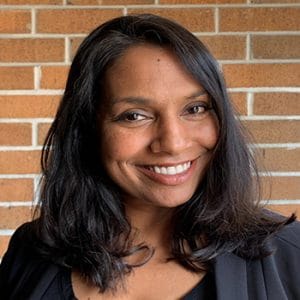 MINEOLA, NY, September 1, 2021 – We are proud to announce Vidya Ragoo as the new Family Child Care Initiative Director.
Vidya will join ParentChild+ with over 20 years of experience in early care and education. She worked for the NY Early Childhood Professional Development Institute as a Quality Improvement Specialist where she delivered on-site consultations for continuous quality improvement aligned with QUALITYstarsNY program standards in family childcare, group family childcare, and center-based childcare settings. As Deputy Director of The Children's Aid Society's Early Childhood Division, she led a regional service cabinet that identified and met the needs of families in under-resourced neighborhoods so that children and youth were prepared for college and careers. As Director of Early Childhood Services for the Lutheran Family Health Centers she oversaw and implemented developmentally appropriate practices for infant/toddler, pre-school and school-age centers serving low-income and/or immigrant families. In her new position, she will be working with ParentChild+ sites across the country as well as state, county, and city childcare agencies on the national expansion of the FCC model bringing quality school readiness supports to providers and parents in under-resourced communities.
Currently Vidya is an active member of various organizations that serve women and children around the world. She is a Board Member at Children's Education International, https://acei.org/, which believes that "the global challenge for education is not just about providing access to education, but also about ensuring education's progress by transforming and reinventing education to meet the child's needs, the needs of their community and workforce, and the emerging needs of a more dynamic and interconnected world."
She is also a member of Tide Risers, https://www.wearetiderisers.com/, a "deliberate community to help women leaders amplify their impact" and is a NYS Master Cadre (a verified trainer and coach), Pyramid Model.
Vidya is a graduate of Georgetown University where she studied Sociology and Women's Studies with a keen interest in social justice. She earned her M.Ed at Lesley University in Curriculum and Instruction with a specialization in conflict resolution and peacable schools. Since then, Vidya has focused her work on the power of early childhood development to improve children's lives and outcomes.
###
Media Contact:
Ricardo Abreu, ParentChild+ Development & Communications Coordinator
Phone: 516.883.7480 Email: rabreu@parentchildplus.org
About ParentChild+
ParentChild+ focuses on bridging the opportunity gap by supporting school readiness for families living in communities furthest from opportunity. Through an international network of program sites, ParentChild+ works one-on-one with families to prepare children for school and life success. Highly trained Early Learning Specialists visit twice-weekly to model reading, conversation, and play activities designed to support parent-child interaction. Since 1965, ParentChild+ has been assisting local partners in replicating and expanding this proven program, supporting children on a path to equal possibilities from the start and strengthening families and communities. For more information please visit www.parentchildplus.org.
SHARE