Malden Family Welcomes Mayor Christenson for his first ParentChild+ Home Visit
---
Malden ParentChild+ started in Fall 2019, with support from the Wellington Management Foundation and sponsored by the Malden Public Schools.  Now in its second year, the program is working with 20 families and their two- and three-year-old children, and plans to enroll up to 30 families by the end of this school year.   Laura D'Angelo, a former Coordinated Family and Community Engagement coordinator and Early Intervention specialist, is the program's enthusiastic coordinator.  She oversees a staff of three Early Learning Specialists (home visitors), who speak Spanish, Portuguese, and Mandarin. In January 2020, Laura presented about the program to the Malden School Board, and Mayor Gary Christenson was so intrigued by Laura's presentation that he asked if he could join in a home visit with a family – an offer that was enthusiastically accepted.
The following article appeared in the Malden Advocate on February 14, 2020, describing what turned out to be a great experience for both the family and the Mayor.  Thank you, Mayor Christenson for your commitment to quality early childhood programs to young children and parents.
Mayor visits ParentChild+ family at home
By Tara Vocino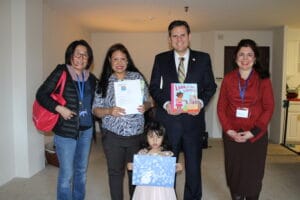 Mayor Gary Christenson visited a family in the Malden ParentChild+ program on Wednesday morning at Malden Towers.
According to ParentChild+ Coordinator Laura D'Angelo, ParentChild+ provides early literacy and school readiness support to low-income families and/or those who have risk factors by offering a curriculum of books and toys, which are alternated weekly over the period of two "years," each year consisting of 23 weeks of visits. Funded by The Wellington Foundation, they cover the cost of $2,730 per family, including books, toys and program materials, which the family keeps after graduation in June.
"It's so fun to see him read to her," said D'Angelo about Christenson, whose name Utsahi Luitel, 2, kept repeating leading up to Wednesday's visit. "It's great interaction – you can tell how much he cares."
Parbati Luitel, who has been receiving visits since April, said it's an advantage to teach her daughter how to read early. "We feel lucky," said Luitel, who moved from Nepal to the United States in 2014. "Early intervention is a great opportunity for us."
Her mother said toys are her daughter's favorite part of the visit. Utsahi, who was dressed in a princess dress, plans to enroll in Head Start for preschool and Beebe Elementary School when she turns six years old.
The program emphasizes relationships with child and parent, and D'Angelo said mother Parbati and father Biswa are a great example to Utsahi, with a brother, Utkist, on the way. The same goes for Malden Public Schools Early Learning Specialist Evelyn Baratam, she added. "Utsahi is doing great," said D'Angelo, who added that research has shown a higher graduation rate for program participants. "They've established a wonderful relationship."
Christenson said it was fun and invited her family to visit his office. D'Angelo thanked Superintendent John Oteri, Massachusetts Program Director for ParentChild+ Carol Rubin and Malden Early Learning Center Principal Peter Dolan for their support with Malden's 19 ParentChild+ participants.
Carol M. Rubin, LICSW
Massachusetts State Director
parentchildpluscarol@gmail.com 
Laura D'Angelo
Malden, MA Site Coordinator
ldangelo@maldenps.org
SHARE