ParentChild+ North Carolina Sites Awarded Over $1 Million in ARPA Funds
---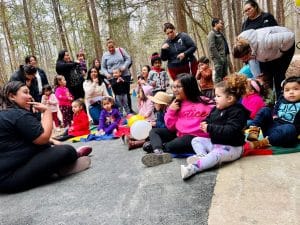 CHARLOTTE, NORTH CAROLINA, MARCH 31, 2022 – ParentChild+ is proud to announce that ParentChild+ North Carolina, in partnership with its three local partner agencies, has been awarded over a million dollars in American Rescue Plan funds. Mecklenburg County has awarded funding to two ParentChild+ local implementation sites. Charlotte Bilingual Preschool was granted $300,000 and INLIVIAN $510,000 to expand ParentChild+'s One-on-One home visiting model to support additional families across the county in preparing their children for school success. ParentChild+ provides 92 home visits that focus on supporting healthy development and school readiness, and connect families to food, housing, medical, employment, and educational resources. These funds will help these two agencies work with an additional 200+ families over a four-year period.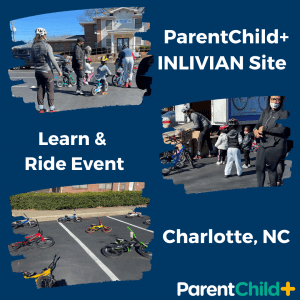 In Cabarrus County, ParentChild+ partner site Families First has been awarded $250,000 to launch ParentChild+'s Family Child Care (FCC) model in the county. The FCC model supports home-based child care providers in building a care environment with rich adult-child interaction and school readiness supports, and in providing the families of the children they care for with early learning information and materials and connections to resources.
ParentChild+ began these powerful North Carolina partnerships in January 2020, on the precipice of a global pandemic, and yet they are all thriving. All sites immediately pivoted to virtual visits in March 2020, click here to view a ParentChild+ NC virtual video; and are now beginning to return to in person visits as health conditions allow. The Charlotte Bilingual Preschool is currently working with 75 families, 100% of these families identify as Latino/Hispanic, with 98% of families reporting Spanish as their primary language, and 89% of families speaking little to no English. The fact that ParentChild+ hires from the community and works with families in their home/heart language is critical to the relationships and community connections it is able to build. INLIVIAN (formerly the Charlotte Housing Authority) is currently working with 25 families, 100% of these families identify as African American, and will be expanding to 50.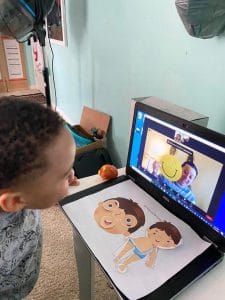 Over the past two years, in response to needs exacerbated by the pandemic, ParentChild+ North Carolina raised $51,500 specifically to assist with food, rent support, diapers, PPE, and the technology needed to participate in virtual visits and navigate critical community resources during the COVID crisis. Local ParentChild+ sites also provided food for Thanksgiving, holiday gifts for all ParentChild+ families, and most recently bicycles and helmets. Despite the pandemic, ParentChild+ North Carolina is on track to work with 150 families and provide well over 10,000 home visits by June of this year.
None of ParentChild+'s success in North Carolina would be possible without the initial investment by the GreenLight Fund Charlotte. GreenLight Fund Charlotte Executive Director, Carrie Cook notes that, "ParentChild+ creates significant, measurable progress in early literacy and socio-emotional development for two–three-year-olds. The two-generation program model to support children and their caregivers for school readiness, combined with cultural intention and hiring from within the communities served, makes it an exemplary model for how we invest in communities to create inclusive prosperity. I'm thrilled they are receiving critical expansion dollars from Mecklenburg and Cabarrus County to partner with more local families." North Carolina ParentChild+ is also fortunate to have the support of Brighthouse Financial, Vanguard Strong Start for Kids, Enterprise Holdings, and the United Way of Central Carolinas.
###
Media Contact:
Ricardo Abreu, ParentChild+ Development & Communications Coordinator
Phone: 516.883.7480 Email: rabreu@parentchildplus.org
About ParentChild+
ParentChild+ focuses on bridging the opportunity gap by supporting school readiness for families living in communities furthest from opportunity. Through an international network of program sites, ParentChild+ works one-on-one with families and home-based child care providers to prepare children for school and life success. Highly trained Early Learning Specialists visit twice-weekly to model reading, conversation, and play activities designed to support adult-child interaction. Since 1965, ParentChild+ has been assisting local partners in replicating and expanding this proven program, supporting children on a path to equal possibilities from the start and strengthening families and communities. For more information, please visit www.parentchildplus.org.
SHARE
Related Resources
April 5, 2022
ParentChild+ North Carolina Sites Awarded Over $1 Million in ARPA Funds...
CHARLOTTE, NORTH CAROLINA, MARCH 31, 2022 – ParentChild+ is proud to announce that ParentChild+ North Carolina, in partnership with its three local partner agencies, has been awarded over a million dollars in American Rescue Plan funds. Mecklenburg County has awarded funding to two ParentChild+ local implementation sites. Charlotte…