Joyce
---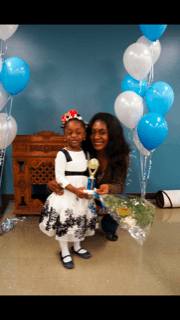 Joyce Mireku became part of ParentChild+ when her daughters, Alexis & Jacinda, were only toddlers. During her time in the Program, Joyce worked hard to model constructive, educational behaviors for her daughters. She recognized that there were tremendous benefits to being an engaged parent in her children's education, and has stayed involved every step of the way.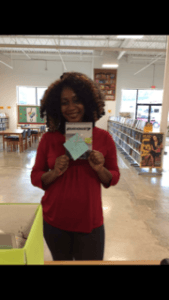 As a result of ParentChild+, reading has become a very important activity in the Mireku home. Early Learning Specialist, Susan Lyons, noted that the family recently bought a bookcase to showcase all the books they received through their ParentChild+ visits. Joyce and her daughters are now regulars at the Stoughton Public Library. With the help of Stoughton's ParentChild+, the family have become quite familiar with the resources in building and know all the librarians.
After the Mireku family graduated from ParentChild+ in May of 2015, they continued to visit the library and participate in various programs—including the Build a Better World summer reading program. Every time Joyce brought the girls to the library, she entered her name in the raffle—and was thrilled to win a prize at the end of the summer.
When Joyce registered Alexis in West Elementary School in spring 2016, she was determined to be involved in school — and today, attends all school events and meetings. Last year the entire family participated in the school's Family Dinner Book Club, a program designed to encourage literacy and family time. Together, they took turns reading from a book during dinner.
Joyce is also a volunteer member of the West Elementary School Council, which meets once a month with school staff, administration, and other parents. Being involved in the committee keeps her up to date with school policies and demonstrates her full engagement to her daughters. The staff at ParentChild+ are so thrilled to share in her success. Joyce is a great example of a mom who understands the importance of education and encourages her children to value it and become active in their communities.
SHARE