Yrbania Rosa
---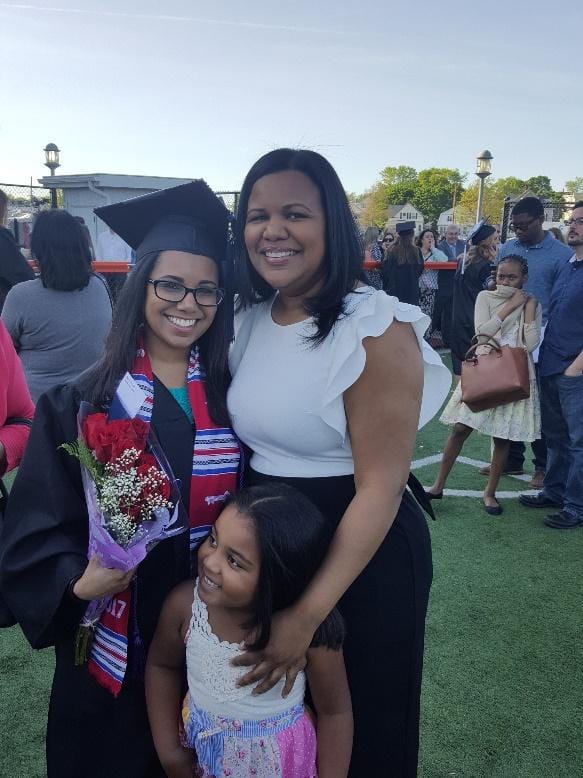 "I was a young mother… only fourteen years old… and did not even know reading
was an important thing to do with such a young child." – Yrbania Rosa
When Yrbania Rosa signed her daughter up for ParentChild+, she had no idea what a deep impact it would have on her entire life. At fourteen, Yrbania became a mother of a baby girl she named Yliana. Fortunately, the high school she attended in Salem, MA had a teen-parent program and Yrbania was able to earn her diploma.
Yliana was a shy little girl who did not speak very much. But things began to change when Alexandra Rodriguez, their Early Learning Specialist, came into their home. Alexandra taught Yrbania how to read books to her daughter "in a way that was fun, not using the words, looking at the pictures." Yliana fell in love with books and began asking her mother to read to her every day. Her favorite book was Put Me in the Zoo.
Yrbania also learned how to engage her daughter in play, using toys in different ways. During their two years in the Program (1997-1999), Yrbania saw Yliana's imagination grow exponentially. She noticed an increase in her daughter's vocabulary and saw more confidence in her ability to play and interact with others.
After Yliana graduated from ParentChild+, Yrbania enrolled her in pre-school. That's when Alexandra suggested Yrbania consider becoming an Early Learning Specialist for other families. She decided to go for it! Yrbania learned to read and write English proficiently, enrolled in North Shore Community College, and then transferred to Salem State University where she received her Bachelor's Degree in Psychology.
"ParentChild+ gave me experience and confidence, I loved to work for this Program because it opened up a lot of doors for me."
Yrbania worked for ParentChild+ as an Early Learning Specialist for eleven years, from 1999-2010. She is currently a Senior Home Visitor at Catholic Charities, working in the Healthy Families Program. Yrbania works with pregnant teens, providing them with parenting education support and advocacy.
Today, Yrbania is also the proud parent of a college graduate! Yliana, following in her mother's footsteps, received her degree in psychology in the spring of 2017. Like her mother, she was educated at Salem State University, and currently works in the Salem School District as a bi-lingual para-professional. Together, with Yrbania's second daughter, Samara, they live in Lynn, MA.
Yliania still has her copy of Put Me in the Zoo on her bookshelf!
SHARE