Andresa
---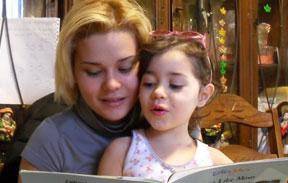 The following is Andresa's testimony before the Massachusetts Early Education and Care Board.
My name is Andresa. I am 24 years old and I have lived in the US for about 10 years. When I was in high school I got pregnant with my daughter who is now four-years-old. I have been working very hard to survive and to put food on the table so my priorities were always work, work and work. I always made sure my daughter was being well cared for and for me it meant: food and shelter, basically.
When I met Fernanda (Somerville, MA ParentChild+ Coordinator) who knocked on my door and talked to me about ParentChild+ in my language, I found it interesting as an opportunity to receive toys and books, things I could not afford. My daughter was with a baby sitter during the day and in front of the TV at home, and probably at the baby sitter's house too. I did not know about more qualified childcare, how to look for or if I qualified.
I started receiving home visits after I got home from work. At the beginning, the 30 minute home visit seemed long to me because I wanted to cook, clean and prepare for the next day. I am not ashamed to say, I was always looking at the clock. I did not find time to read with my child. This was not important to me.
I am a good mother, but in my culture kids play with kids, we do not really take time to "prepare them for school," read books or go to playgroups. They are all raised by the whole family and friends, here I only have my mother with me and we are all working long hours.
After a couple of months receiving the home visits, twice a week for 30 minutes each visit, I started to have fun sitting, playing and reading. I did not know we could do this and have fun. My Early Learning Specialist showed me how to read books. Even if I cannot read the words in English, I can read the pictures. I am learning English with these books; I feel more confident; I can do it. I did not know about all the activities you can do with your child, even free stuff you can find in Somerville. My Early Learning Specialist gave me the information.
I can tell you that it was my relationship with the Early Learning Specialist, her patience and the home visits every week, which made me change. Now my daughter asks me to read to her, we play together with no stress of finishing quick to cook. I think she is addicted to books. I changed; I take the time to sit and enjoy a book with her; we talk more often. We have fun together and I am not always in a hurry.
ParentChild+ connected me with English classes, playgroups, field trips and now I am in the process of registering my daughter for preschool. I live in a housing development and I am raising my daughter alone. She is an American citizen and I am in process of becoming one too. This is the country I chose to live in. My daughter is going to start school and as soon as I can, I want to go to college to give my daughter a better life.
Now I am working as a part time outreach worker for ParentChild+ because I can help, too. I tell all families I know with young kids about the Program. Thanks for all of your work in keeping these programs alive and available to us.
SHARE