Dylan
---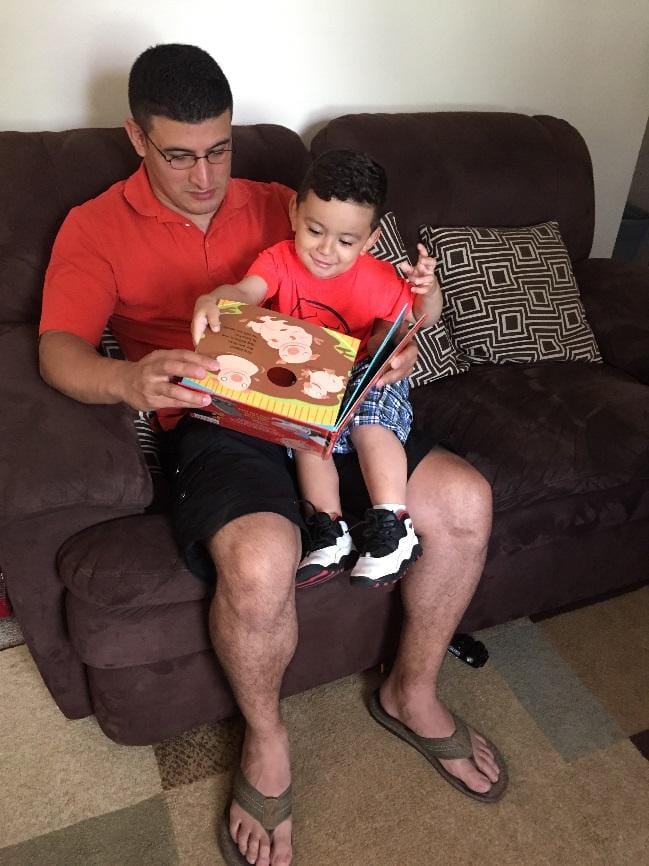 "We have learned along with him." — Alfredo Salguero
Before being enrolled in ParentChild+ in Waltham, MA, Dylan Salguero only communicated with signs.  He had no vocabulary, nor did he understand the concept of music, colors, reading, or imagination. He also had no idea how to express curiosity or engage socially. Dylan's father, Alfredo, was inexperienced in how to read and play with his son, and what he should be doing to support school readiness.
But today, everything has changed.  With support from ParentChild+, Alfredo now finds it easy to play and read with his son.  He says Dylan enjoys music, loves to sing, and delights in turning the pages during storytime.  During play, Alfredo has noticed an increase in Dylan's abilities and creativity as well.
Dylan's favorite books from the Program are Brown Bear, Brown Bear, Color Book, and Goodnight Gorilla.  His favorite toys include activity cups and wooden blocks.  He loves building different objects and figures and has developed quite the imagination!
During their time in ParentChild+, Dylan and Alfredo developed a wonderful relationship with their Early Learning Specialist, Lillian Mendez Nir. She always found unique ways to gain Dylan's attention and get him more involved in the activities.  Additionally, she modeled different ways to play with toys, alternative ways of reading books, and encouraged more interaction between father and son.
"We have learned along with him," Alfredo said. "The Program is helpful, interesting and full of learning.  It prepares the child for school and future academics. But more importantly, it gives us the opportunity to share in play and reading with our child."
Because of ParentChild+, Dylan and Alfredo now participate in a weekly play group. They also spend more time engaging in family events and visit the park regularly.
SHARE