Helen
---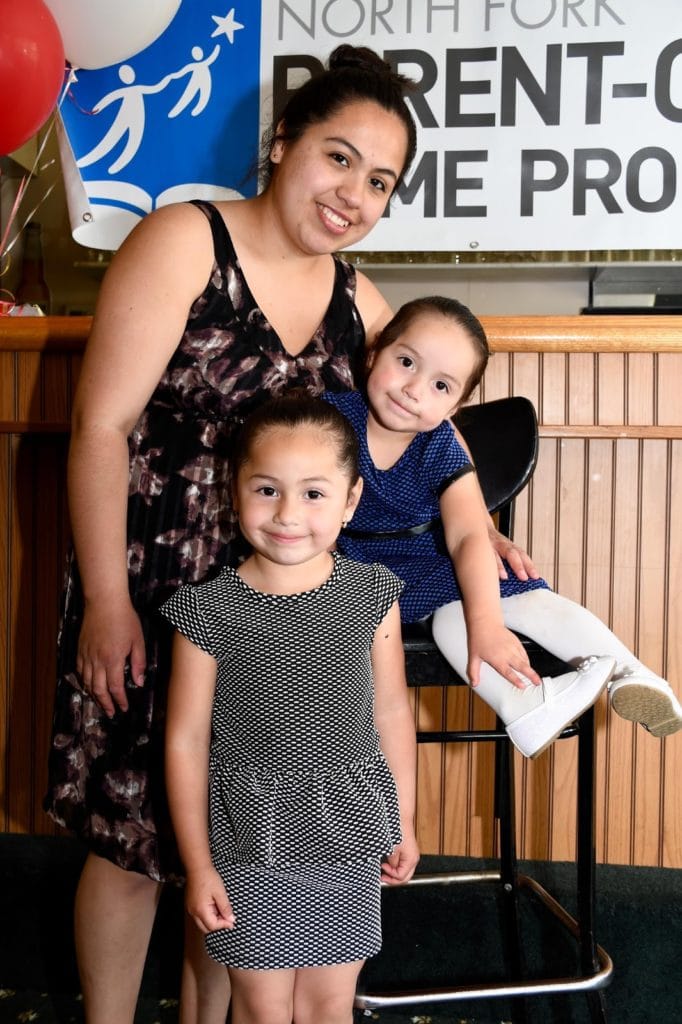 A ParentChild+ Success Story:
Meet Helen from North Fork, Long Island
Helen grew up on Long Island in a bilingual family, the daughter of immigrant parents. She attended local schools and is very familiar with the immigrant experience on Long Island. When the North Fork ParentChild+ started in the area, Helen heard about it through word of mouth, and called Sarah Benjamin, the ParentChild+ Coordinator, who became the family's Early Learning Specialist , to enroll her two daughters, who were then 1 1/2 and 2 1/2 years old. Sarah was impressed that Helen was really interested in the Program, which was brand new in town, for her daughters. She understood the value of it before many others did.
During their regular home visits, it became evident to Sarah that there was something different about Helen. She was very involved with her daughters, and even made a special place in her small home to keep the books and toys at their reach, yet safe and secure.
"The Program is a reason and an enjoyment at our home every week, my daughters know when the Early Learning Specialist comes over," Helen stated. "They get so excited and even sad when she has to go, but we get to spend time together and to really bond and learn from one another. My daughters have such a love for books and they love the books we get from the Program."
As the Program continued, it was easy for Sarah to step back and allow Helen to take the lead with reading and teaching her girls. The girls loved to paint, so that became a much sought out activity. The relationship between the family and the Early Learning Specialist blossomed, and Sarah was able to encourage Helen and her girls as she faced a difficult time in her life becoming a single parent. With the regular visits and just a listening ear, the Early Learning Specialist can become a source of strength to a young mom, which is exactly what happened in this case. Helen grew in resilience to face the changes ahead of her.
"I have learned to treat every day like a home visit day with my daughters, I take that time out to play and learn with them. That is the best thing that this Program has given me – the enjoyment my daughters get and the bond that I have and am creating with them" – Helen reflected
When the girls both completed ParentChild+, Sarah knew that Helen would be a perfect candidate for becoming an ELS. Helen had been accepted to college, but was not able to realize her dream of attending as yet. She understood ParentChild+ and understood the life challenges for young Latino families in the area. Sarah offered Helen the position, and she accepted immediately. She began to bring ParentChild+ to five local families.
Helen started as an Early Learning Specialist, and when there was an opening at the agency for a Client-Support Specialist (bilingual) Helen applied and was offered the full-time position. Quickly she brought her friendly and competent personality into the front office, and she made sure that the under-resourced families being served in our agency would, in a myriad of ways, be put at-ease and welcomed at a time when immigrant families in this community are facing fear and stress. Helen worked hard on her lunch hour and after work to ensure that her five families completed ParentChild+. Helen is a source of joy and pride to all of us who work with her. Not only have her daughters become bilingual and completely ready to succeed in school, which they will be entering this fall, but Helen is advancing her own career and helping people every day. This brings her joy in return.
SHARE