Tammy
---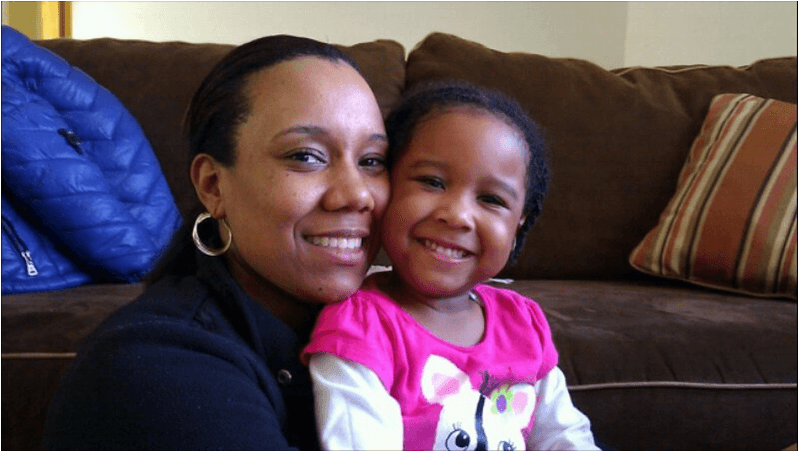 Tammy is a single mother raising her young daughter, Ayanah, while also working, going to school, and caring for her disabled father with whom they live on the Poospatuck Indian Reservation in Mastic, NY.
Tammy's mother passed away when she was only 11 years old. Growing up, she moved from house to house on the reservation to stay with different relatives. Despite her loss, Tammy says that she never felt alone. The entire Unkechaug Nation was always there to support and care for her.
Helen Fechter from the Center Moriches school district met Tammy at the Reservation Community Center where Tammy works, and invited her to participate in ParentChild+. Tammy happily accepted. "It sounded like a great opportunity to start Ayanah's education early, and I knew I needed the support," Tammy said. Ayanah couldn't wait for the twice-weekly meetings with their ParentChild+ Early Learning Specialist, Helen, and the trio delighted in reading her favorite books, like "Big Red Dog," and putting together the puzzles that were brought as gifts to the family.
Tammy and Ayanah completed two years in the Program, and Tammy has seen the positive impact of the Program on, not only Ayanah's development, but also on her relationship with her daughter. Tammy reflected on her experience, noting, "this Program helped motivate my daughter and me to spend time reading and learning together. I saw that my daughter was learning, but also enjoying herself, which is a great feeling for a parent." Tammy has since referred many families on the Reservation to the Program and has seen that her friends and neighbors are now more motivated to spend time with their children as well.
Today, Tammy and Ayanah share one room together in their home on the reservation. While the space is a bit tight, their room is a language rich environment where they spend happy times reading and playing. Ayanah loves her books, is enrolled in a Head Start preschool program, and is enjoying school and making many new friends.
Tammy has embraced her role as Ayanah's first and most important teacher; she has been inspired by ParentChild+ to be a role model for her daughter. "I am so grateful for ParentChild+. It is one of the best choices I've made for my daughter and her education," said Tammy. "Since we've joined the Program, every time she sees a book, she picks it up and says, 'Read to me please'. I know ParentChild+ has made a positive difference for Ayanah and me."
July 2014 Update: Tammy gave birth to her second child, and was hired as a ParentChild+ Early Learning Specialist for the Center Moriches School District. When reflecting upon her first year, she says: "It's been great being an Early Learning Specialist. The best part is sitting with the kids, reading with the families, and knowing the whole family enjoys the experience, but is also learning. The parents are so appreciative of me and the Program."
SHARE