Valentino
---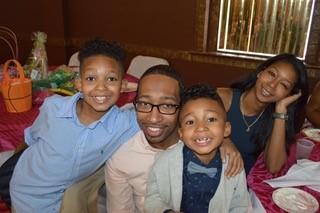 As a young parent living in Buffalo, New York, Valentino T. Shine Jr. sought guidance in helping his young son reach his potential. Through ParentChild+, Valentino supported Jackson, now age 5, and enabled him to develop into the enthusiastic student he is today.
Before they enrolled in ParentChild+, Jackson's communication skills were limited to gestures and pointing, and he used very few words. Valentino describes his son as having an amazing personality, a very friendly child who always got along with others really well.
Through the two years of the Program, Valentino watched his son gain an interest in reading, writing, drawing, and even dancing. Additionally, he noticed that Jackson wanted to learn. According to Valentino "he is very attracted to being smart."
During the program, Jackson loved the books brought by their Early Learning Specialist, particularly "10 Rubber Duckies" and "Pete the Cat and His Four Groovy Buttons". His love for these books shaped his current passion for reading.
Valentino credits the Program and their family's Early Learning Specialist with helping him realize how important it is to be involved in schoolwork, homework, and learning activities. Thanks to ParentChild+, he has become even more supportive of Jackson's dreams. Valentino notes that the key thing their Early Learning Specialist would tell him was "you are your child's first teacher".
Valentino recognizes the way ParentChild+ helped both him and son develop and actively recommends the Program to his friends and families with young children.
"[ParentChild+] made me realize the importance of parental involvement in children's educational journey." – Valentino proudly exclaimed. "My experience with ParentChild+ was one of the best experiences for my children and me at that time in our life. Holistically and educationally."
Valentino loves the Program so much that he shared information on ParentChild+ on his social media platforms and receive an overwhelming response from his friends! All of his friends with children ended up enrolling in ParentChild+, one of them even telling him "Valentino, thank you so much for introducing me to ParentChild+. That was the best Program for me and my child."
Today, Jackson is a star student excelling in both school and life! He loves to read, writes about 100 notes a week, draws about 100 pictures a week, and loves to color and dance. "He is growing up beautifully," states his proud father.
Valentino, modeling for his son what the future can bring, he now works as Vice President of Business Development for a start-up commercial real estate company in Buffalo, NY.
SHARE